Bystrek's Oil Company, LLC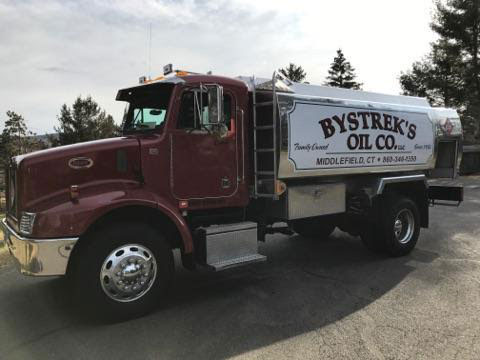 Bystrek's Oil Company, LLC promises to keep your tank full. We specialize in diesel fuel deliveries, heating oil deliveries and repair of boilers and furnaces. We are the premier service provider for both commercial and residential oil out of Middlefield, CT. Get in touch with us today for pricing and service information.
Expert Delivery & Repairs in Middlefield, CT
Since 1956, Bystrek's Oil Company, LLC has been delivering dedicated services to residential and commercial oil customers throughout the region. Family owned and operated, Bystrek's Oil Company, LLC was founded on principles of integrity, quality and reliability. Six decades later, we remain true to these roots. Our clients know they can trust us to provide reliable, quality services to meet all their oil-supply needs. This commitment to service excellence has made us the top heating oil supplier out of Middlefield, CT. It's why we have a long list of satisfied customers and enjoy a solid reputation in our field.
Bystrek's Oil Company, LLC offers a full-line of services that covers residential fuel oil, commercial fuel oil, diesel fuel delivery and quality heating repairs. For customer convenience, we provide 24/7 emergency services. To fully meet your needs, we also offer volume discounts, or you are welcome to call as needed. Bystrek's Oil Company, LLC knows you count on reliable heating oil delivery in Middlefield, CT and surronding areas, so we make your deliveries and repairs as cost-effective, efficient and easy as possible. Our goal is to partner with you to meet all your oil needs. We invite you to take advantage of the many benefits of a partnership with Bystrek's Oil Company, LLC:
We are locally owned and operated, established in 1956.
We offer 24/7 emergency services.
Our experts deliver dependable oil supplies and repairs for your home or business.
We provide volume discounts.
We are partnered with Community Renewal Team and Operation Fuel for any fuel assistance that may be needed.
Keep Things Running Smoothly
Enjoy reliable fuel delivery and dependable maintenance when you partner with the experts at Bystrek's Oil Company, LLC.
Areas Served
Proudly delivering Heating Oil and Diesel Fuel to Middlefield, CT and surrounding areas, such as:
Rockfall, CT
Meriden, CT
Middletown, CT
Durham, CT
Wallingford, CT
Cromwell, CT
Haddam, CT
Higganum, CT
Portland, CT
Middle Haddam, CT
Cobalt, CT
East Hampton, CT
Killingworth, CT